Rare Razzle Dazzle Rhinestone Clip Earrings
Circa 1950-1960s. I keep feeling like I saw these in the sky on some long past Independence Day. These are openwork and wild! Each earring is a five-pointed star with another layer of of riveted sparkling streams of light, with an unusual arrangement of both prong set and glue set stones. The findings are clip on, with clips set on a third openwork base layer. These jewels are 3 7/8"tall x 2 3/4" wide, big as large brooches! I've tried these on, and they form a beautiful arc around the face. You've got to have them! Rhinestones are aging evenly, and still bright. The metal is clean; the backs of the earrings look like they've never been worn. Marked low inside the clips Patent Pending. Very good condition; Enjoy for $75.

Giant Vintage Earrings, Actual Size!

Weiss Icy Fireworks Vintage Rhinestone Earrings
Clip earrings, a pair of real sparklers. The rhodium plated jewels are 1 1/4" and signed on clips WEISS. Excellent condition. Put sparkles in their eyes all season! $24

Big Tutti Frutti Rhinestone & Enamel Vintage Earrings

Or are they moons, with rhinestone lights glowing out of the craters? Celebrate springtime through New years Day with these delightful, high quality clip back earrings. Gold tone decorated and textured fittings offer a cream enameled background with multicolored rhinestone cabs set in larger recesses. AT 1 3/4" in diameter they are fairly heavy, but have clean, good quality comfort pads on the clips and so are remarkably kind to the ears. Dating is quite possibly 1950s, when huge button clip on earrings became stylish. But I'm thinking these are as late as 1980s. The jewels are high in quality. Possibly never worn (though I tried them on to inspect comfort factor) these vintage earrings are in Excellent, clean condition. $22.00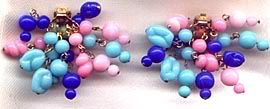 Sassy Japan Multicolored Pastel Glass Beads Ear Clips
These colorful fringe earrings are so plump and luxurious your face will look thinner! Gold tone clip findings are wired with all glass bead dangles including round and puckered and twisty beads to rattle and dance around your smile on the first day of spring! Their length totals about 1 1/2" from the clip finding. The are signed JAPAN, not in the usual place in front of the clips, but in back where the hinge is. Excellent condition. Enjoy for $22

Screw On Earrings. Back in the 1950s, cluster earrings were well in vogue, and here's a unique pair for wear and to collect. The scans don't show every color to its best, but these jewels offer pale pink & yellow beads, faux pearls, and assorted coral glass beads all wired into a light goldtone filigree base. Wired onto the top of each jeweled "mountain" is a delicious clear tangerine 15mm (1/2") glass bead. Equipped with screw on findings, the earrings are in Very Good condition with some of the wiring reinforced with glue in back. Construction is strong and bead colors vibrant. $16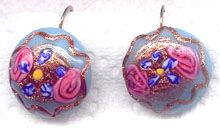 These happy little clip-on earrings show pink roses and lovely blue petal flower between, drizzled with sparkling gold on blue glass. Someone is sure to appreciate these beauties. Your friends and acquaintances will smile when they see you wearing them, for the colors and look evoke springtime, weddings and birthday parties. Signed MARVELLA on the clips with no copyright mark, these colorful jewels are 3/4" in diameter and are in in Excellent condition. $24

Vintage Yellow Enameled Pansy Earrings.
Clip earrings. Be a delight for all who see you the spring and summer long. Lovely 1960's flower power dangle earrings will be something different for daytime. The earrings appear to be hand painted or hand enameled in soft yellow lined with gold, with little goldenrod in the centers of each pansy and creamy tangerine on the foliage findings that separate the two flowers. Metal is brushed gold tone. The jewels measure 2 7/8" from top to bottom, and the large pansies are about 1" x 1 1/8". They are in Excellent condition. Unforgettable! $22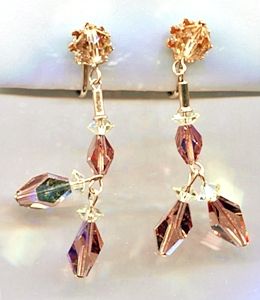 Clip on earrings. This pair of earrings will bedazzle him, contrasting with you blue or green eyes, and making brown eyes look snappier. Three Swarovski amber aurora borealis crystals vie with yellow crystal spacers and round yellow coronet set crystals on the gold tone clip mechanism for who is their favorite gal~ It's you! The earrings dangle 2 1/4" long and are signed Coro on the adjustable clips. Excellent condition. $24

Art Deco Sapphire Glass Sterling Earrings
These beautiful earrings might be as late as the 1940s, but the glass and shape sure says Art Deco to me. The jewels offer sterling screw-on findings prong set with Caribbean blue faceted glass squares. The unique shapes allow for light play around the ears. The 3/4" earrings are 3/8" wide and in Excellent condition. Marked STERLING on screw mechanism. $32