Sparkling Blue AB Rhinestone Hinged Bangle
This remarkable vintage jewel will really draw attention to beautiful hands. The hinged bangle, also known as a clamper bracelet, is studded with blue aurora borealis rhinestone chatons that flash lavender and green depending on the light. The rhinestones are coronet set in a silvertone openwork finding, and the coronet settings give the piece a lacy look that really adds to the sparkle. The widest portion of the bangle measures 1 1/2", and inside of the bangle measures approximately 2 1/2" x 2", fitting a medium sized wrist perfectly. I see little to no wear to the silver finish, inside or out, and all the rhinestones are bright and fiery as a sun-dappled crystal clear pool. Excellent condition. $55
Amber Guild Gold Filled Bracelet
Amber and gold are enduringly lovely together, especially in this sweet link bracelet signed Amber Guild 12K GF. Glowing genuine amber 10mm beads alternate with gold filled wire twists for a playful space age look. It clasps at 7 1/2" for a medium to large wrist. This great jewel is in Excellent condition, and is hers today for $42.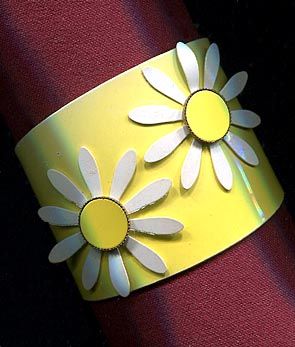 Rare Mod 1960s Flower Power Plastic Daisy Cuff Bracelet
Yes--rare, because you wont be able to find another like it anywhere online. That's because these pure flower power mod plastic jewels of the 1960s were not made to last for longer than the summer of love, or perhaps a season or two. The pretty light soft yellow plastic cuff is a bit more than 2" at the widest. The diameter is about 2 1/2" x 2", for a small wrist. The big bright daisies appear to be screwed on, the screws covered with gold foil. If you want a real collectible from the 1960s, this is for you. However, I would not recommend it be worn very often. This jewel is in Very Good condition. $55
Book Piece
Featured on page 144 of Collecting Vintage Jewelry 101, 2nd Edition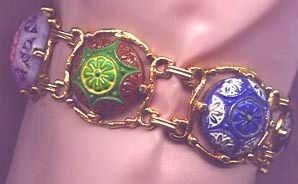 DeLizza & Elster for Celebrity Moroccan Matrix Art Glass Bracelet
One of Celebrity's better pieces, this ethnic revival link bracelet offers colorful and exotic molded glass enameled cabochons in each setting. This type of art glass was also used by Delizza & Elster in their own unsigned jewelry and is called "Moroccan Matrix." Feels cool and heavy on the wrist. This jewel is 1" wide and clasps with the large foldover at 7 1/2," roomy enough for a medium to med/large wrist. Complete with safety chain, this chic collectible is signed in back of one of the links (c)Celebrity. Excellent, unworn condition. $55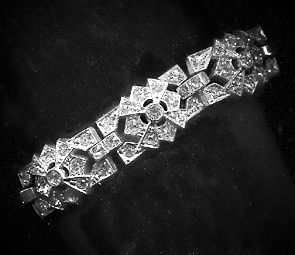 This razzle-dazzle beauty, an art deco stacked geometric design from the 1930s offers diamante rhinestones in beaded settings. The base metal is rhodium. The push in clasp is jeweled, and the bracelet sports a safety chain. The rhinestones, if you look closely, are uniformly aging, but they still strike sparks. The 5/8" wide jewel clasps at 7" for a medium wrist. Enjoy for $68.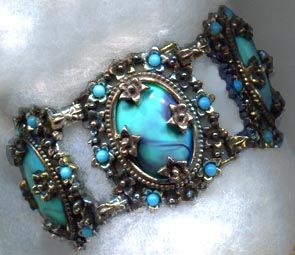 Beautiful Turquoise Thermoset Wide Vintage Bracelet
For your consideration today is this charming bracelet. The turquoise thermoset curved cabochons have purplish streaks and, along with small faux turquoise beads, pose prettily in an antiqued silvertone ornate floral setting, with floral overlays across the cabs. Width is 1 5/8". Such marvelous design yet no signature, but who cares? I was tempted to keep it for myself; but alas, clasping length is 6 3/4" for a small wrist size. Someone with slender wrists will love this! Very good condition, with tarnishing or wear on the clasp and minor glue residue on the back of the cabs. Enjoy this beauty for $55

This piece by Whiting & Davis is forever immortalized in the book Costume Jewelry 202 by Julia Carol, seen in red on page 475.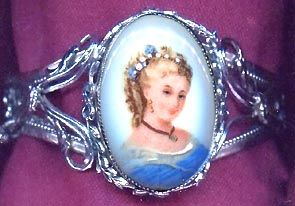 Circa 1960. No costume luxury was spared when Whiting and Davis made their famous hinged bangles. Here's a fantastic Victorian Revival piece, a porcelain painting imported from Limoges France, the famous Lady in Blue. The lady is hand painted over a transfer, giving an essential pearled look to her hair decoration and collar. How beautiful. The oval porcelain is encased in a silvertone bezel among intricate silvertone leaves, bows, and other openwork folderol which extends to the side of the bangle. This bracelet is signed Whiting & Davis Mesh Bags over the inside hinge, and you also get the Limoges signature in gold on the back of the porcelain.
The bracelet measures 1 1/2" wide at the portrait and 1/2" in back. The jewel fits a small to small-medium wrist without pinching; it's just a bit too tight on my regular medium wrist. Inner diameter is 2" x 2 1/4". Comes complete with safety chain. Excellent condition. Such a Highly collectible can become an heirloom in your family. $125




Egyptian Revival Alabaster Tassel Bangle Bracelet

These Egyptian style metal & bead wrap bangles seem to have been popular 40-50 years ago, and the jewels hold popularity because of the sleek, classy style. In Judith Miller's book, COSTUME JEWELRY, the same bracelet is shown on

page 222, unsigned but attributed to Miriam Haskell c.1940. But more than one company imitated the style and you can find all kinds of variations. In this one, thick heavy goldtone wire fits all sizes but curves naturally to around 2 1/2". You can also wear it on the upper arm, Egyptian style. The big natural alabaster beads have slender pink swirls . Each end terminates in flirty chain tassels. For femininity without fussiness, this beauty will enhance almost any style of clothing. Very good+ condition. $45

The reverse view turned out very dark, but be assured the back is bright gold tone and shining!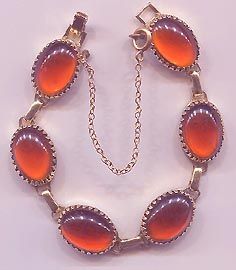 Luminous Whiting & Davis Amber Glass Bracelet
The beautiful glass cabochons this goldtone link bracelet are smooth and cool to the touch--but they have the clarity and warm glow of real amber! He'll want to take your bejeweled wrist, he'll want to taste the candied elegance. The bracelet is 5/8" wide and clasps with a foldover at 7". It comes complete with safety chain with thumbless spring ring, which makes me think the bracelet might be an older vintage. The bracelet is signed in back, and is in Very Good+ condition, with little wear. Enjoy this vibrant vintage beauty! $55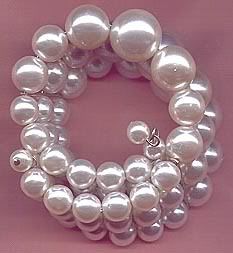 Let's go to the hop! This classic 1950's beauty offers 3 wire strands of graduated off-white plump faux pearls. The biggest pearls are about 15mm. These are hard to find with the pearl dangles still on the ends, but these are intact. It's easy to wear and goes with just about everything, giving you a pure demure look with summer eyelet pastels, or with black lace for a nice-girl-gone-naughty look. One size fits most. My wrist is medium and it fits nicely. Width at the widest part is 1 3/4". Excellent condition. $23