Lisner Jewelry
Vintage Jewelry Signed Lisner
Click on each picture for a larger view. Some of the items have added view links so you can see more pictures.
~ FREE U.S. SHIPPING

The images make this jewelry look lighter. Actual colors are evergreen & midnight blue.

Lisner Blue & Green Leaves Moonglow Bracelet & Earrings Set.

This pretty Lisner set will bring out the sparkle in your eyes with a cool breeze of forest green and midnight blue oak leaves. The rhodium plated bracelet is set with a double row of scalloped moonglow leaf inserts--what a lovely motif for autumn! The bracelet is 7" from mid clasp and in Very Good, clean condition, with minor wear on the back. The matching screw-on earrings are 1" and in Excellent condition. All pieces are marked Lisner(c).

$58
The earrings are not this red. They are lighter coral color.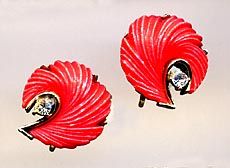 Lisner Orange/Coral & Rhinestone Thermoset Earrings
Screw-on earrings. Pretty swirling feathers showgirl earrings in coral thermoset nest sparkling clear rhinestones, all set in gold tone. These will go with the necklace and bracelet in the same style. They measure 7/8" x 1" and are in Very Good+ condition, with one earring having minor wear on the gold tone in back. Signed in block letters LISNER(c). $24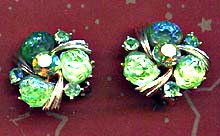 These goddess fantasy earrings give you the best of greendom, with grass green iridescent molded glass flowers that seem to glow from within. The three stones are separated by light goldtone metal swirls studded with apple green chatons and centered with a large aurora borealis chaton winking green, gold, pink & blue!. These beautiful clip-on earring surely have necklace and possibly a bracelet to match, I'll be on the lookout! The 1" jewels are in Ver7 Good+ condition, with minor wear on the clips. $24

Golden Age of Lisner Voluptuous Bows Necklace & Bracelet Set Rhinestones!
From the early 1940s we have something a bit different for Lisner collectors--a voluptuous necklace and matching bracelet demi parure in golden bows, accented with emerald green and clear rhinestones. The solid construction reminds me a bit of Trifari, and these kinds of post war bows adorned with rhinestones were popular throughout the 1940s and into the 1950s. The set is in excellent vintage condition with no damage; the golden finish is unmarred, the rhinestones still bright. The necklace measures approx 19 1/2" in end to end length and the bracelet is just over 7 1/4".Very Good + condition. These beautiful older pieces are getting harder to find. All signed LISNER on the clasps. Enjoy $95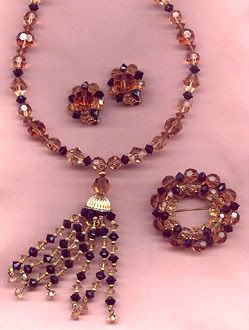 Sparkling Lisner Black & Brown Crystal Fringe Necklace Parure

What a delightful find! Don't you love the look of tassel necklaces? They draw attention to the bust line so reliably that it's guaranteed *he* will notice. This one will add elegant sparkles to the picture with the unusual combination of black & clear warm-toned pale brown (or mink) crystals! Circa 1960, the necklace offers beautiful quality faceted glass tea-colored crystal beads, with smaller bicones and including black bicones for accent. The matching circular brooch is wired with an inner ring of brilliant very pale golden bicones finished with brass endpins, and encircled with brown and black crystals. The 7/8" clip back earrings complete the parure. Please note that although it's obvious the pieces are a matching set, only the earrings are signed Lisner(c). I've seen another set like this one as well, but the without the brooch, and in that set only the earrings are signed. The necklace clasps with a spring ring at 22", the fringe dangle, held in a gold tone finding, is about 3 1/4" long. $65

On this page you will find Lisner Jewelry, all signed Lisner Vintage Costume Jewelry. We offer vintage Lisner thermoset and moonglow jewelry, Lisner Rhinestone Brooch Pins & earrings sets, Lisner earrings, vintage bracelets, Necklaces and Parures.
We also have Antique Lisner Jewelry from time to time.