A great deal of vintage Japanese costume jewelry is very well made, far better than most contemporary "fashion jewelry," with many pieces on par with Coro, Trifari, Lisner. Some of the designs are often mistaken for Miriam Haskell.

In the past and in some circles, a low regard for Japan jewelry was due to the fact that after WWII labor in Japan was cheap, and so the jewelry was inexpensive and put out in large quantities. But we must realize that most of this jewelry is hand strung in such an array of designs that rarely are two Japan necklaces found exactly alike. In fact, many Coro bead necklaces of the 1940's and 1950's were actually imported from Japan, which may also be true for some of the Lisner bead necklaces.
And why not? The artisans of Japan, as impoverished as they were at the time, were also highly talented. Japan faux peals are the best in the world; Miriam Haskell used them on her jewelry. Also, gorgeous lampwork and other hand painted art glass beads and crystals were used. All these, along with moonglow beads and hand painted plastics, acrylics with foil and aurora borealis coatings can be found in vintage jewelry marked Japan. The fabulous color & shape combinations are now highly sought after.

Sparkling Japan Glass Sugar Beads Necklace & Coro Brooch~
Why buy just one necklace when you can have a necklace and a Coro brooch! The combination of materials is so vintage elegant. The necklace is a 4-strand wonder of delicate pink beads with tiny white knobs that make them look sugary. The beads alternate with clear crystals and connect at ornate silvertone end pieces. The necklace clasps at 16" with a chain & J-hook marked JAPAN. The Coro brooch is a real beauty--foliage enameled green and pink double layered flowers bright with coronet prong set fuchsia rhinestones! Both necklace and brooch are in Excellent, clean condition. $58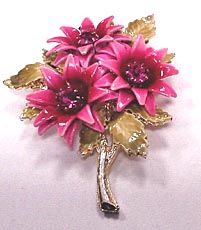 Best of all you can detach the brooch and wear it separately, or the necklace by itself. Neither piece is damaged because the pin stem goes through a piece of fluff to protect the sugar beads.
Pink & Red Occupied Japan Celluloid Scotty Dog Brooch
Here's an older dog, up for adoption to the right owner. This Scotty, at 2 1/8" is a bit larger than the usual celluloid cuties and he's got pink whiskers, blue eyes, a red tongue, wee blue nose, and a red polka dot bow tie pinned with a rose. He's quite proud to be featured in Leigh Leshner's COSTUME JEWELRY: IDENTIFICATION & PRICE GUIDE. Excellent condition. "Occupied Japan" mark is on the pin mechanism. $28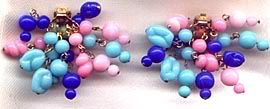 Sassy Japan Multicolored Pastel Glass Beads Ear Clips
These colorful fringe earrings are so plump and luxurious your face will look thinner! Gold tone clip findings are wired with all glass bead dangles including round and puckered and twisty beads to rattle and dance around your smile on the first day of spring! Their length totals about 1 1/2" from the clip finding. The are signed JAPAN, not in the usual place in front of the clips, but in back where the hinge is. Excellent condition. Enjoy for $22

Japan Painted Turquoise Ceramic Pendant Necklace
Here's an unusual, long necklace, circa 1970, made in Japan. The floral designed 8-sided 2 1/2" pendant and square beads are transfers outlined in gold for the look of cloisonné on glazed ivory porcelain. Other large tube beads are also ceramic glazed turquoise . Other beads are dark blue-gray faux pearls and flat round white acrylic beads. The necklace clasps at 24" with a spring ring, the pendant providing an additional 2" drop. The color combinations would compliment practically an shade of complexion, hair and eyes. The necklace is in Excellent condition. When you see the reverse pictures, you will notice a set of matching earrings, which will be included but not counted in the price due to condition of the backs. Our low price is for the necklace. $38

Happy Japan Hand Painted Bobble Head Duck Pin
Here's another vintage carved cutie from 1950s Japan. Hand painted in bright colors, this carved duck has a spring set head so he can bobble and bounce as you move. He will be a delightful addition to your collection. He measures 2" and is stamped in back JAPAN. Excellent condition. $32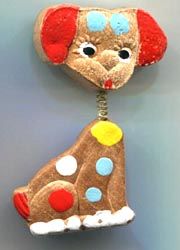 Adorable Hand Painted Japan Bobble-Head Puppy Dog PIn
This cute carved soft wood pin seems to have come alive as a bright puppy with orange ears wide open eyes and polka dot clothes. His neck is a spring wire so he can nod to and fro while you walk. These were made in Japan during the 1950s. This 2" dog is stamped JAPAN and is in excellent condition. Enjoy for $32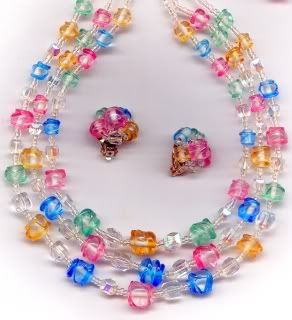 Japan Glass Lampwork Triple Strand Necklace Set
You can't go wrong to add this unusual all-glass beauty to your costume jewelry treasures. Clear glass barrel shaped crystals in assorted sizes set off the multicolored trail lampwork beads, where colored trails of pink, green, blue and golden applied to clear glass beads. Tiny glass seed beads accent. The effect is delightful, like being wrapped in the fresh colors of springtime. The necklace clasps at a maximum of 18" with adjustable J-hook; matching clip on earrings are 7/8". All are marked JAPAN. Necklace is Excellent, earrings are Very Good with one having visible wear on the clip. Enjoy. $58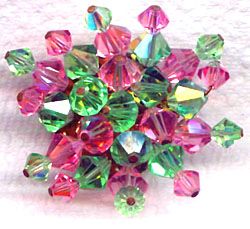 Japan Pink & Green Aurora Crystal Bicone Pin
For a colorful Springtime, this unusual crystal pin will remind you of the sunny days ahead. High quality Aurora Borealis AB crystal rhinestones in green and pink are wired to a light goldtone base. Around the edges, one bicone is stacked upon another. About 2" in diameter, this sparkling jewel is marked Japan on the pin assembly. Very good condition, with wear on the back. Enjoy for $28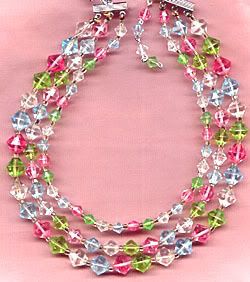 Three Strand Multicolor Glass Bicone Choker Necklace

Such a happy vintage sparkler! Unique & scarce, this molded glass necklace from Japan offers pastel green, pink, blue & crystal faceted glass bicones. Hooks at maximum 15 1/2"; the 2 1/2" extension will allow you to tighten and wear it as a collar. I could find no chipped or cracked beads. A unique vintage necklace in Excellent condition. Marked Japan on the J-hook. $58


Classic '50s Faux Pearl Wrap Bracelet

Let's go to the hop! This classic 1950's beauty offers 3 wire strands of graduated off-white plump faux pearls. The biggest pearls about 15mm. These are hard to find with the pearl dangles still on the ends, but these are intact. It's easy to wear and goes with just about everything, giving you a pure demure look with summer eyelet pastels, or with black lace for a nice-girl-gone-naughty look. One size fits most. My wrist is medium and it fits nicely. Width at the widest part is 1 3/4". Excellent condition. $23